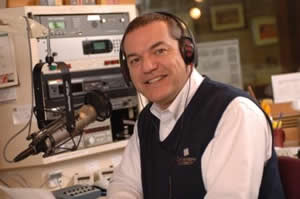 Radio Program
For some 16 years, I wrote and voiced "Making a Difference." The radio program, and later syndicated newspaper column, was known for its practical talks about things that matter to everyday people in everyday life. In the program's discussions I attempted to avoid side-stepping controversial issues or making edgy statements for the sake of creating controversy. But in each piece I hoped to model Christian thinking about living the Christian life in its fullest application.
I was privileged to serve as the author and voice of this 2 minute feature from its inception. Drawing on a Christian worldview instilled in me by parents, church, and Christian education, and on a fairly good exposure to culture, I wrote for the radio program, a syndicated newspaper column, my blog, and periodic guest commentaries for websites and print media.
"Making a Difference" aired weekdays without interruption from January 1993 to June 2008 via WCSG FM studios, Cornerstone University, Grand Rapids, Michigan. And the program aired nationally July 2008 to June 2009. The first radio program was entitled, "Making a Difference" and began with the sentence, "God expects Christians to make a difference as salt and light." I tried to encourage people toward active and thoughtful Christian influence of their times based upon the words of Matthew chapter five.
Newspaper Column
From July 2003 to December 2008, "Making a Difference" was syndicated nationally as a newspaper column, beginning with not quite 20 newspapers and quickly growing to about 100 newspapers in 33 states. The first column was entitled, "Is Your Business Ethical?" Each newspaper column was approximately 310 words and many columns also aired on radio. I also used "Making a Difference" as a venue for publishing book or movie reviews on key, current literary publications and cinematic productions.
Thanks
Since the radio program and the newspaper column were brief, I had to get in, define the issue, apply Christian values, and get out. According to the many testimonials of people who emailed me, the programs and the columns were appreciated for "the way they made people think." I am grateful for this.
Since "Making a Difference" is no longer aired, I want to thank the faithful listeners and readers, many of whom have expressed their comments to me in various venues along the way. May God be praised and may all of us seek to make a difference for the Lord.
More than 500 "Making a Difference" programs will eventually be available on this website in their original version with the initial recording date indicated.
Video Column
During October 2011 Publisher Dave Vander Veen of "West Michigan Christian News" and Christianenews approached me about a new video column that would tap many of the still-relevant print and radio programs (also: accessing blogs and writing new columns) from my "Making a Difference" archives. The idea was to turn these radio programs, print columns, blogs, or new content into video shorts.
Thanks to Dave's team (wife Faye, along with Robert and Debra Foster of BoDe Productions) we made fairly rapid progress. I emailed column content to him a week or so before we were scheduled to tape. Then we met in a public television studio November 5, 2011 and, to our collective amazement, taped 17 columns in a matter of four hours. This included getting our act together identifying the right lighting, adjusting the teleprompter's proximity to me so my aging eyes could read the text, finding the correct teleprompter scrolling speed, changing outfits, and of course doing a few retakes.
The first video column aired via the "West Michigan Christian News" E-edition December 13, 2011. The video column is filmed, edited, and produced by BoDe Productions and distributed by Christianenews, a new website owned and launched by Dave Vander Veen. Additionally, the video column is posted on YouTube, various websites, Facebook, and other outlets.